Summer has arrived! 
The garden chore at the top of the list is irrigation and along with that, water conservation. Check your system to ensure proper function and if a dry spot appears, check the heads for clogs or blockage immediately. On the conservation front, consider planting a drought tolerant landscape or shutting off your irrigation system when rain is in the forecast.
The evil doers we know as garden pests are also springing to life this month. Slugs and aphids are the most common pests in the home garden. Continue to protect your plants from these pests with baits and sprays. Also, be watchful for a host of other damaging critters.  Everything from cutworms to turkeys can get into your garden and leave it in ruin.
June conditions in the garden make for a great setting for fungus. Typically air and soil temps are warm and things are still a little moist. As a result, examine your plants on a regular basis for signs of powdery mildew, rust, blackspot and other disease issues and address any problem areas.
Flower Gardens
Check hanging baskets on a regular basis for dryness.
Local garden centers are fully stocked with Annuals! Annuals might be short lived, but their colorful, abundant blooms make them worth the effort. Add plants like Zinnias, Geraniums and Marigolds to the sunny areas of your garden and Impatiens to the shady patches.
Many perennials are in their full glory this time of year! Check out our Corner Store location for the best selection.
Vegetable Gardens
Get those heat-loving veggies in the ground!  Temperatures are now in the range loved by tomatoes, peppers, squash and beans.
Stay on top of fertilizing this month.  Regular fertilization will produce strong, healthy plants that can better resist disease and drought.  In larger gardens this can be accomplished by side dressing the rows with a granular fertilizer like Nutri-Rich.
With warm soil temperatures sweet corn can go in the ground this month.  It is best to let it soak overnight and then plant it. This will improve your rate of germination.
Everyone on the planet enjoys eating fresh vegetables from the garden, including pests! This month continue to watch for aphids and cabbage worms.
Be sure to have stakes and cages around any plants that need additional support. This includes tomatoes, pole beans and any vines.
Cole crops planted earlier in the year are approaching harvest time. Younger seedlings are likely ready to be thinned and enjoyed.
Container and raised beds often dry out quickly. Check on a regular basis to make sure they are receiving the moisture the need.
Fruit Gardens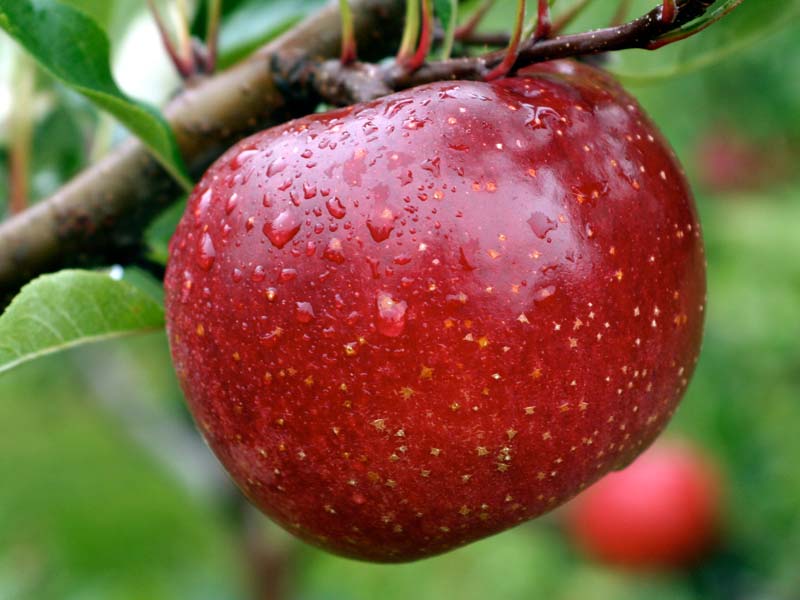 Fruit trees drop excess in June. Afterward, you should thin by hand to protect limbs and produce larger fruit. Apples and pears should be thinned to one or two fruits per cluster, while peaches and plums need about an 8" spacing. Place traps in apple trees to detect codling moth emergence. Expect fruit flies in cherry trees with fruit, those critters are swarming this month.
Strawberries are starting to ripen this month. Be sure to harvest them as soon as they ripen. This will help to reduce potential disease.
Indoor Plants & Herbs
Bring house plants outside for necessary maintenance (grooming and repotting). Acclimate to sun conditions with care.
Make sure your indoor plants are receiving fair doses of water in the hotter climate.
Lawn Maintenance
Check irrigation systems to ensure complete coverage. Lawns that turn brown in spots this month will be difficult to green before the fall rains.  For tips on local irrigation check out EWEB's Green Grass Gauge program.
Fertilize the lawn now for healthy growth throughout the summer. Water the fertilizer in well to avoid burn or use a good slow release lawn food for long-term feeding.
Various Jobs Around Your Oregon Garden
Adjust and check irrigation systems. Dry spots need correction. Spray heads may be blocked or clogged.
Mulching all shrub and flower beds this month could save lots of water and keep weeding chores to a minimum this summer. If you are too busy, have a service like Lane Forest Products apply the mulch in just a few hours.
Cutworms begin their work at night this month. If your plants are gone in the morning, stop by a garden center on the way home for several different options, or try wrapping the base of the plant with protection buried into the dirt (like cardboard or paper about 2″ high).
Continue monitoring your garden for pests.  If you have a Birch tree that is leaving a sticky residue on everything near it that means it has aphids. Depending on the size of your tree a systemic may by be the easiest form of treatment.
Shothole fungus could be appearing on cherry and plum trees. This fungus creates holes in the leaves and can be worse if weather conditions have been wet. It can spread quickly if left untreated with a fungicide.