As a gentle breeze whispers leaves flutter to the ground in autumn. As I stroll through the garden this always reminds me of playing in huge maple and oak leaf piles as a kid. To be honest I still love stomping through piles of leaves listening to the crunchy sounds under my feet. It is my favorite time of year, admiring the splashes of orange, reds, crimson, and bright yellows. As the sun shines through in the early morning it creates a magical touch against green evergreens.
Maples are well known for their large canopy and foliage but actually come in many shapes and sizes. As a kid I thought our Maple tree was the biggest on the street, we tapped the trees for syrup (in the eastern United States). However, that was before I saw Big Leaf Maples! And with choices like Autumn blaze to October glory maples they never disappoint.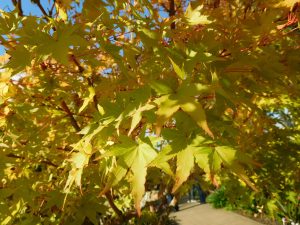 However, if you are looking for a beautiful selection of smaller Maple trees Japanese Maples are your stars. You can't go wrong with over 300 varieties to choose from ranging from upright to weeping habits! The uprights generally top out at 20-25 feet which makes them still quite manageable. The organic structure of curly branches gives a whimsical feel, a nice touch, no matter the size of your garden. Gorgeous varieties of Japanese Maples include, mixes of reds, purples and oranges with varieties like Orangeola, Tamukeyama, Trompenburg, and Bloodgood. A Sango Kaku (Coral Bark) is especially attractive with brilliant red stems in the winter and green leaves that turn a golden in the fall.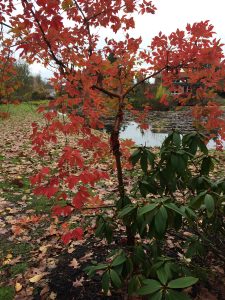 One of my favorite trees are the Paperbark Maples (Acer griseum), and what's not to love? They have extraordinary foliage combined with unique peeling bark that will enhance any yard. They are a great city tree that is small and versatile. Also, don't forget about combining some shrubbery with your trees to help create a mountain of colors and layers. A Red Twig dogwood (Cornus sericea) will also add a sharp touch of interest.
Understanding ecology will give you important insight for a successful garden. So, be sure to keep some leaves on the ground, for they are good foraging material for worms and insects as well as helping build the soil. As the leaves naturally decompose it becomes the perfect start to a nice compost pile. Mulching your shrubs and perennials (like dahlias) with leaves will keep frost/cold damage to a minimum. Japanese Maple leaves are small so they are especially great for leaving on winter beds where water can still penetrate and you can always cleanup in the spring or mulch more attractive material over top in the spring.
As the season continues reflect on these ideas and come check out our selection at the corner store nursery- this is a great time of year for planting trees!
—
Written by Karen Smith
Lane Forest Customer Services / Plant Specialist